Two nights ago I sat curled up on a friend's couch, listening as she talked about feeling a little sad right now.
"It's Christmas," I said. "It's the season for sadness."
She laughed knowingly. "Yeah. I reminded myself I felt this way last year, too."
It wasn't always this way for me, or not precisely. But time keeps on turning. We learn things. We grow. And like my second grader trying his best to focus and "grow a bigger brain" just two blocks away, learning is never without a cost.
My kids have started praying for Aleppo. Over the weekend Cory and I decided to share
Ann Voskamp's post
with them. In keeping with most of our lives, it wasn't a particularly tender moment. I was listening from the kitchen while I mashed avocados into guacamole, but I noticed the way the usual rumble of our home's waking hours was hushed. And the questions began pouring in.
"Dear Bana & the Kids in Aleppo…

When we heard that you're eating grass, and garbage… that there's only a few days left till your starvation… while we were all swollen with how much turkey and cranberry and pumpkin pie we ate this past weekend — we all needed to come find you and look you in the eye.

When you, Bana, you tweeted to the world what you're seeing through your little seven-year-old eyes, and we read what you typed: "Last message – under heavy bombardments now, can't be alive anymore. When we die, keep talking for 200,000 still inside," we hardly breathed and we needed to hold out our hands to you.

The anger of this world cannot and will not make us deaf to the cries of our children..." (excerpt from Ann's post)

abc news
I worried maybe it was too much, lingering on the popular belief that kids should be protected against this sort of thing, that it's not fair to burden them. But the
skinny tree
is crammed in the corner of our tiny living room and soon it will have presents underneath. It's so hard for kids to wrap their minds around suffering, especially during Christmas, but quite honestly, I know no other way to show them the full story - the Herod that led to the manger that meant our Savior was born humbly so we could see the beauty that grows from low places.
They are children. I don't expect too much from them when it took me 35 years to begin to understand.
But when God called my family to the compassion of suffering with our neighbor, he called all of us.
We refuse to look away.
I covered the guacamole with plastic wrap, grabbed the chips, and eyed Cory across the room. As always, we created a "big" moment in the midst of our chaos without leaving enough room to tidy up the edges. Parenting, at least for us, is an exercise in begging God to fill in the cracks. Shoes-coats-last minute bathroom visits - and we were in the van.
"Does anyone want to pray for Aleppo?"
Calvin did.
Here's the thing - I struggle when people talk about how "beautiful" so-and-so's prayer was. Call me immature. Say I'm missing something. I'm sure both are true. I happen to not have the gift of poetic prayer, and I've learned to not pretend otherwise. They all count, even the ones breathed through gritted teeth. Even and perhaps
especially
the desperate ones strung with cuss words from our friends at the county jail, who have learned to speak the language of pain.
All that aside, Calvin's prayer made me weepy. It was beautiful.
"Help the people bombing Aleppo to change their ways."
My eleven year old somehow understood that in the end, it's the only miracle that will help.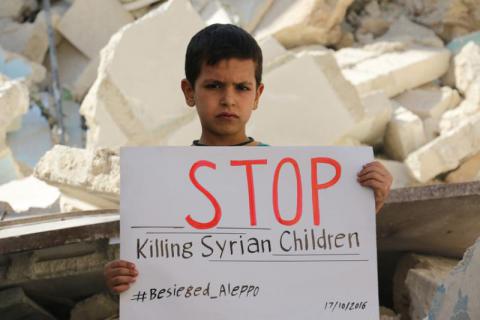 save the children
My house smells like pine, I'm sipping orange-spiced tea, and I'm offering you the gift of sorrow for our friends and neighbors, our brothers and sisters and mothers in Aleppo. They are not so different from you and I. They cook dinner, laugh, and cuddle up. For generations they have built a future just to watch it crumble around and upon them in a picture of apocalyptic hell on earth.
It is Tuesday, December 6th in Aleppo. This very moment they are kissing their kids' cheeks and praying for tomorrow. They're tending to what needs done and asking for a miracle. They are as full of life and dreams as we are, as hopeful and creative, every bit as funny. They like their toast a certain way and their coffee black, or heaped with cream. They remember the feel of wool on their skin. They remember a time when they weren't starving and scared, and when their children didn't look
like this
.
Some say this isn't our problem. It's too impossible. The stakes are too high, or too confusing. It's Christmas, after all, and we can't bear more darkness just now.
But I know we are different.
Five long/short years ago, we stood against injustice by trying to
fund a well
so an impoverished village could have clean water. We watched water run through our homes and looked hard at the ways we took it for granted. We forced ourselves to face their pain. And though it looked impossible on paper for our tiny community to accomplish this huge goal, we were not deterred. We stepped out in obedience, not knowing how long it would take or if if would ever even be "successful" (in the ways the world defines success.)
When we exceeded the goal ($12,000!) in less than two months, I was slackjawed. Speechless. These are the kinds of things that return lonely hearts to their homes and restore souls. This is Jesus brought low to the earth, small and unlikely, to save us.
So, here I am, today, not asking for a dime.
I'm just asking us to care.
For some of us, caring might mean sending some cash along the way. But for many of us, it will be much bigger than money. It will mean risking our reputations and sacrificing our common sense. It will mean bearing a burden we'd rather ignore. It will mean hauling around a bucket of sadness while we shop for presents, bake cookies, and wait. The most important sacrifice is the one that is hardest to make, and I am asking you - begging you - to define with me that *thing* holding us back from loving these precious neighbors, then tossing it on the altar and watching it burn.
"You don't feel the siege biting until it's gone too far. Then the market shelves are free of everything. You see no bread, no milk, no rice. We're eating two small meals a day now and soon it will have to be one. But you know what scares me even more than hunger? The international silence. No one has helped us. We are alone." Washington Post article from December 3, 2016
Ann has helped create a website full of important calls to action. Please read through it and act in whatever way God is calling.
Please, please share.
Rally your families and your people. Print the ornaments off and pass them out at church or the coffee shop. Take a picture of you and your people holding a DIY #WithAleppo sign and tag it on social media.
Above all, pray.
This is not an invitation to a miserable Christmas, it's an invitation to a meaningful Christmas, where we carry out our beloved traditions while fighting for the life we say we value.
I cannot stress this enough - people will think you're nuts. They might be annoyed. They might talk smack that you dare to try to "ruin" their Christmas. But we were not born to live among the "international silence." Most of the world seems to be okay with leaving an entire city alone and bleeding - we are not among them.
Our bread feels painfully small right now. There is simply not enough of it and we're too far away. But in the face of need, Jesus faced his disciples, looked them in the eye, and said, "You do it."
They dared to believe he meant it. They suspended their judgment long enough to trust that for some crazy reason, he wanted to work through all they lacked.
They handed it over and the Savior of the world made a way.
With Aleppo and with so much love,
Shannan (& Co.)
Here's
the website
, one more time.