One of my most weirdly-treasured possessions are my volumes (volume
S
!) of tear sheets from decorating magazines, spanning well over a decade. When the snow is piled up to my bosom, I can't think of a more relaxing "activity" than flipping through the books, editing out images that don't wow me anymore, and adding new pages to the mix.
Social media is doing its best to peg me as a ludite (hey,
Pinterest
!) but when I need direction or I'm feeling around in the black hole of my creative psyche for a little inspiration, I always go back to the hard copies. They're a scrapbook of my design quirks, minus the scalloped edges and alphabet stickers. They're a major win.
But.
Even a die-hard such as myself is bound to wander. And though I don't use
Instagram
primarily for decorating tips, now and then I find an image that grabs me by the ears and screams my name. When that happens, I screenshot it for posterity.
I'm starting to feel a little itchy to switch some things around in my house. IT IS DEFINITELY A SICKNESS. From what I can tell, the only cure is more
cowbell
holes in my walls. And maybe a quick Ikea run.
I'm not completely sure where I'm headed, and there's only one room that can effectively be "decorated" in our little abode. But I'm picking up on a few themes, and honestly, some of them perplex me.
I appear to be drawn to both simplicity and chaos. I want to purge. I want to hoard.
I clearly want a butterfly poster on my wall. (But
WHY?
)
I keep wanting color. And texture. And mood.
I want happy accidents and layers and momentos and personality.
And then I want it all to go away.
But only for a minute.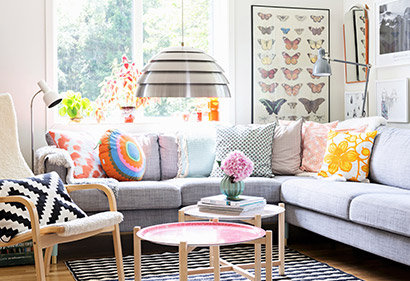 Joss & Main
calls my vibe Colorful Scandinavian, and I'm okay with that. I've always fancied myself theoretically trans-continental. (And it doesn't hurt that they featured my couch.)
Hey, raise your hand if you think I'm on a tight writing deadline!
Who wouldn'
t
think this is the perfect opportunity to spend time I don't have contemplating the life-impact of throw pillows and gallery walls?
Nevermind. I'm off to bake a peach pie.
And paint the exterior of the house.