While you all know about the recent turn of my fickle heart toward secondhand fashion, (hey, camo coat!) you probably also know that when it comes to my jewelry and accessories, I'm utterly devoted to a few companies that create gorgeous things along with economic freedom for women in developing (and often oppressive) countries.
fashionABLE
is one of those companies, perhaps the one dearest to my heart, since
I traveled with them to Ethiopia
last summer and saw this intangible "opportunity" alive and in full color. These women pour their lives and souls into their work, weaving gorgeous scarves by hand in a small but joy-filled building made of corrugated metal.
I will never, ever forget them.
This week,
fashionABLE
is turning 4, and they're celebrating by offering
store-wide mark-downs up to 45% off, with free shipping on all orders over $100.
THIS IS THE TIME TO GET CHRISTMAS SHOPPING STARTED, PEOPLE!
I bought 4 scarves the last time they had a big sale thinking I would use them for teacher gifts, but ended up giving them to various friends who hosted me in their homes in recent months. These are the BEST gifts ever, because 1) everyone loves them and 2) you're pouring into another family across the globe through your purchase!
fashionABLE
also has leather goods like
this clutch
and their new Tizita bracelet set (see photo above) that I
cannot
stop wearing because it works with everything. (The beads are 100% recycled metal melted down from artillery and scrap metal.)
There are scarves as low as $20 right now, so hop to it!
They also have a cool line of "Game Day" scarves, featuring team colors.
PS - Fearless leader Barrett Ward was just awarded
GQ's Leader
award! Read the article to get a great overview of all they do to empower women.
"Charity is important, it's critical, and I've started a non-profit before. I believe in it," he said. "But at some point charity should stop and economic opportunity should begin, allowing people to thrive and create their own way."

- Barrett Ward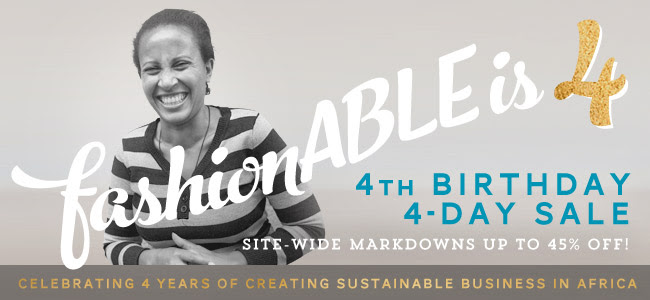 *affiliate link used