Well, for one thing, we finally got the blizzard OF MY DREAMS.
I don't know, I just go for major weather events. It's a semi-appropriate channel for my latent flair for drama, though don't tell facebook, because the last time I whined about not getting the big thunderstorm they were predicting, my feed was flooded with "Shame on you!"s complete with pictures of tornado wreckage and denouncements of my Christian faith.
You probably don't care that I'm still in my pajamas from last night, because at this point, telling you something like that is the exact equivalent of telling you I like salsa or that gingham is a neutral.
So, rather than boring you all to tears by recapping our "day", I thought I'd share a few of my favorite thing from the past week.
Here's something I always feel like clarifying: I never tell you I love things unless I
really do
love them. It's an inexplicable truth that sometimes people send me things for free, hoping I might dig them. Often, I do, and sometimes I blog about it. But a lot of times I just like to yammer about regular things I like that I either bought myself or (more likely) want to buy
but may never find the nerve
.
The moral of this story: You can trust a sister. I'm not about pretending anything.
The other moral: I always feel weird talking about "blog" stuff. It kills the vibe, right? I much rather pretend this is just me and you, yukking it up.
So let's go back to
that
.
The first thing I'm loving today?
Well, duh.
It's healthy peach crumble, because, you know, it's the New Year, etc...
I invented it ON THE SPOT, people. IN. VENT. ED.
This must be what it feels like to be Kanye!
The ice cream is the slow-churned kind that's lower fat and whatnot, plus it has the black flecks of vanilla bean, so it's
totally
healthier than other kinds of vanilla ice cream sans specks.
I bought a jar of cinnamon-steeped peach halves at Aldi last week sliced them up, then put them in a baking dish topped with some weirdo all-natural granola cereal mixed with a few scoops of plain Greek yogurt, some ground flax, cinnamon, and nutmeg.
And butter, but not much.
And a small but essential tiny spoonful of brown sugar.
So, maybe healthy isn't the word, but it could be worse.
That's my motto!
It could be worse.
And, in fact, it
is
worse.
Because I went ahead and drizzled caramel sauce over the top.
Okay, why am I the dorky girl who never really understood
Sevenly
until recently?
I'm officially obsessed.
Every week they add new T's with a conscience, then they donate $7 from each sale to the corresponding cause.
Man, do I ever like a good cause.
And whoaaa man
(said in my best Charlie McKenzie voice)
, do I ever like a good t-shirt.
This is my new hair salvation.
Maddie and Sophie
's Mane.
It was graciously sent to me last spring in a box of things to check out. First I
fell deeply in love with Essence
, but I finally got around to trying this and my affections are now divided.
The site says it's fantastic even in fine hair, but I didn't really believe it because I've been burned too many times by too many sprays, gels, mousses, and hybrids.
But this. I scrunch a bit of it through at the very end and it gives me texture and a bit of wave and oomph. Who couldn't use a bit of oomph?
(Maddie and Sophie is offering 20% off your purchase. Type FPFG in the comments section and the difference will be refunded via Paypal.)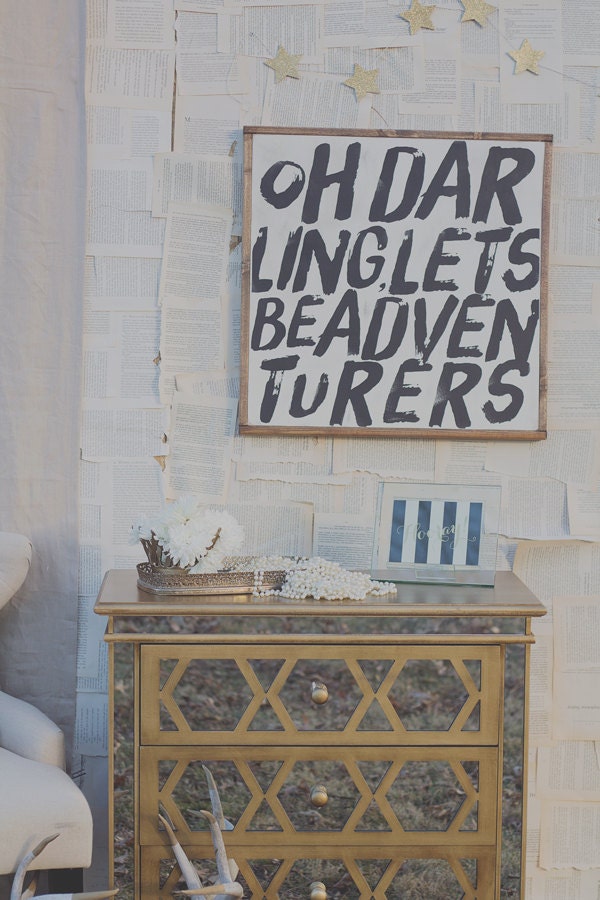 Now.
I saw this a few days ago on Pinterest, pinned by my uber-stylish friend,
Jeanne
. I assumed it was fancy and foreign and out of my league, but of course I re-pinned it in record time, because it is just SO MUCH EVERYTHING that I adore.
It's a little bit chic, a little bit stark, a little bit whimsical.
I love the message and the imperfection of it.
Moments after falling in love, I discovered it's part of my pal Tiffani's new line, from her shop
House of Belonging
. And then I feel
more
in love, because art is one of those things that carries the soul of its maker. I'm quite fond of her soul.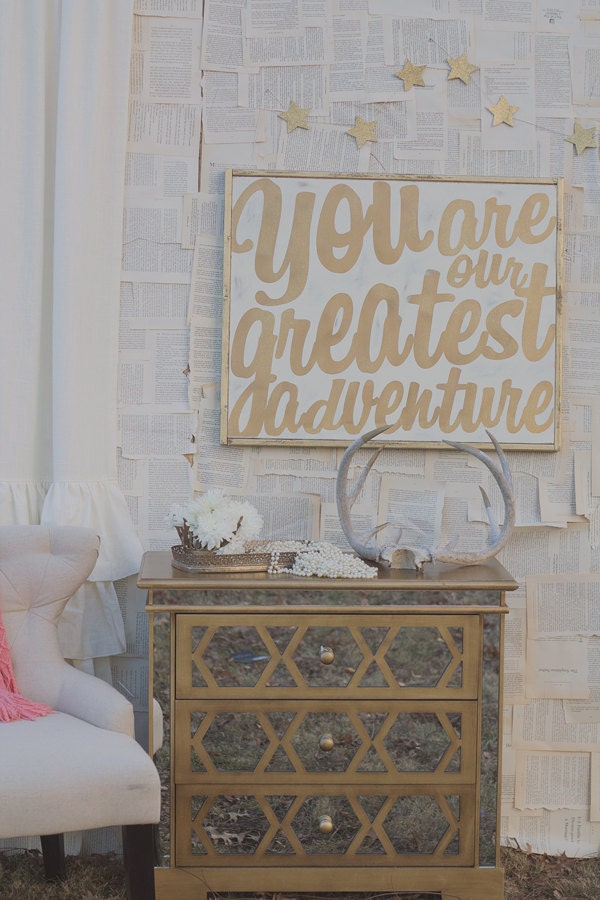 This one is also so beautiful.
It's just so true - Adventure!! I love an adventure. I love looking at my life as an adventure.
Speaking of adventures, school is already canceled for tomorrow, as is work for Cory and Robert.
Clearly
, work for me is not canceled.
The high will be -8. That's right, the HIGH.
So outside won't be happening. We'll have to get creative and I may resort to switching into different pajamas.
Help a sister out. Entertain me. Indulge me. What are you loving this week?
Mwah,
Flower Patch Blizzardgirl