(I have no idea how CMB did this, but isn't it swell?)

We spent our evening taking two Crossing students Christmas shopping. I felt really proud to be out with them. They taught me some things. We all splurged and had dessert at Culver's and I listened with my heart wide open. These moments, they are doing something in my heart. It's an ambush of some sort. I'm figuring it out.
I wrote a guest post for my sweet friend, Hannah. Hannah is one of the dearest people I've never met. She emails me Bible verses and tells me that she loves me when I need to hear it most. She's beautiful in every way. Go meet here. While you're there, you can read
what I wrote about Christmas.
(Mom, remember, just click that flashing line thingy on the blue text to go to the guest post.)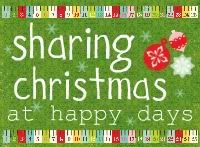 3 more things:
1. My favorite non-hymn Christmas song of all time. I
blogged about it
last year at Christmas, too. I listened a couple days ago and got all weepy, because I had never stopped to consider what creation, the mountains and the trees and the animals, did on that night when The Baby came to save us.
"Was anyone able to look at the stable and not see a child, but a King?"
Slay me.
2. Shameless Calvin plug. I can't not post this every. single. year. He kills me in his little shoes turned sideways and his neck-tie. He was two years old when he sang at our Christmas Eve service at church. I was so nervous watching my little tiny wee baby up there with a mic in his hand.
(For the record, my sister loaded the video. I'm shameless, but not shameless enough to publicly declare my child a "genius".) ;)
#proudaunt #stillcan'tstop
3. Please go
here
for a laugh. I lose it right around "sugary snacks".