Man, I just love 'em. I don't know why. I know they scare some of my family and friends.
I think it goes back to my fierce loyalty to all things underdog.
In the grand Christmas scheme, I would call decades-old plastic babies the underdogs. Wouldn't you?
My seasonal decorating has taken a turn for the hodgepodge this year.
I was on the trail of color.

And free.

It came to me in a vision - I have an overgrown boxwood bush in the back yard.
Roughly five years ago I special ordered boxwood wreaths to hang from five of my most prominent windows (in our old house). They were lovely.
But this year, I clipped my lovely for free and called it a day.
It pains me that it took me three Christmases in this house to get with the program.
My zeal for some zest also inspired me to slow roast a passel of oranges.
It was supposed to take four hours, but it took eight.
I had to set the alarm twice to check on them during the night.
They were
supposed
to be done by 11 pm!
These beauties were unrelenting.
But my house smelled like a Dreamsicle for two days running and they look so pretty in the window.
In a stroke of serendipity, I found the *perfect* green polka-dotted ribbon for $0.10 at a thrift store.
Sweet Cheeks and Jabber Jaws brought home another fantastico decoration from church.
These beat special ordered boxwoods any day of the week.
Then, there's the
newspaper tree
.
I loved it then.
I love it now.
I love it most at night, but not enough that I have taken a photo of it this year, so last year's photo is pinch-hitting.
Everyone
pitches in at Christmastime.
As much as I love this newspaper tree, I didn't entirely live up to my color crave.
So, I did what anyone would do - I hauled dead tree branches in, cut them up and painted them (with Rubester's help) with old craft paint.
There's just something so therapeutic about painting sticks and hot gluing them together.
I wish I had made a triple batch.
Finally, the Shiny Brites made it out of storage this year, and couldn't be happier.
I keep them in the kitchen though. There's still some bad blood between them and the newspaper tree.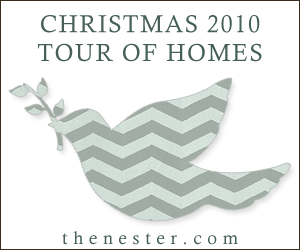 And
Kelly's Korner